PMHC Dinner, Spring 2018
Pediatric Minority Housestaff Committee (PMHC)
The Pediatric Minority House staff Committee (PMHC) was established in 2017 in an effort to provide a forum for residents and fellows traditionally underrepresented in pediatrics to gather, share ideas and build community. The PMHC is comprised of members of the pediatric house staff (both residents and fellows) and dedicated faculty advisors.
PMHC activities include:
Assisting the department with residency and fellowship recruitment efforts.
Providing mentorship and advice on topics including professional development, research and career placement.
Creating a forum for personal development including discussions surrounding home ownership, financial planning, etc.


NYP Graduate Medical Education Diversity and Inclusion Council
The mission of the NewYork-Presbyterian Graduate Medical Education Diversity and Inclusion Council is to unite and support NewYork-Presbyterian housestaff that identify themselves as underrepresented minorities based on race, ethnicity, gender, sexuality, socioeconomic class, disability, religion, and others that support diversity initiatives, through mentorship, networking opportunities, and career development.  We are committed to providing guidance and assistance to the NYP community regarding issues with diversity and inclusion in the continuum of resident recruitment to faculty retention and promotion.
Residency Recruitment
The Department of Pediatrics seeks outstanding medical students from local and national institutions of excellence to comprise each residency class. Various faculty, including PDC members participate in the interview and recruitment process.  Additionally, there are specific recruitment events held for applicants from backgrounds presently under-represented in medicine.
   
Make Your Match
This event is an annual offering intended to introduce medical and pre-medical students to residency training at NYP/WCM. The day is specifically intended to demystify the residency application process in general and help prepare attendees for the next phases of career development and planning, irrespective of their home institution.
Make Your Match 2017 Faculty Panel (Top) and Make Your Match 2018 Resident Panel (Bottom)
The agenda includes a resident panel discussion, mock interviews, overview of the application process and a program director panel addressing " What Do Residencies Look For?"  Throughout the day, students are invited to interact with Weill Cornell students, residents and faculty to learn about our various residency programs as well as the WCM Diversity and Inclusion initiatives and community. 
In Summer 2018, Department of Pediatrics esidents, faculty, and leadership participated in a very successful Make Your Match networking luncheon.
2018 Make Your Match networking luncheon with future pediatricians
Welcome Back Event 
In January 2018, the Department of Pediatrics co-sponsored the NewYork-Presbyterian-Weill Cornell Welcome Back event for residency applicants.  The event, which was sponsored by several NYP residency programs including Pediatrics and Medicine, the NewYork-Presbyterian GME Diversity Council, and the Minority Housestaff Committee, was intended to introduce applicants to our larger diversity family, and to celebrate our community's commitment to diversity, inclusion, and health equity.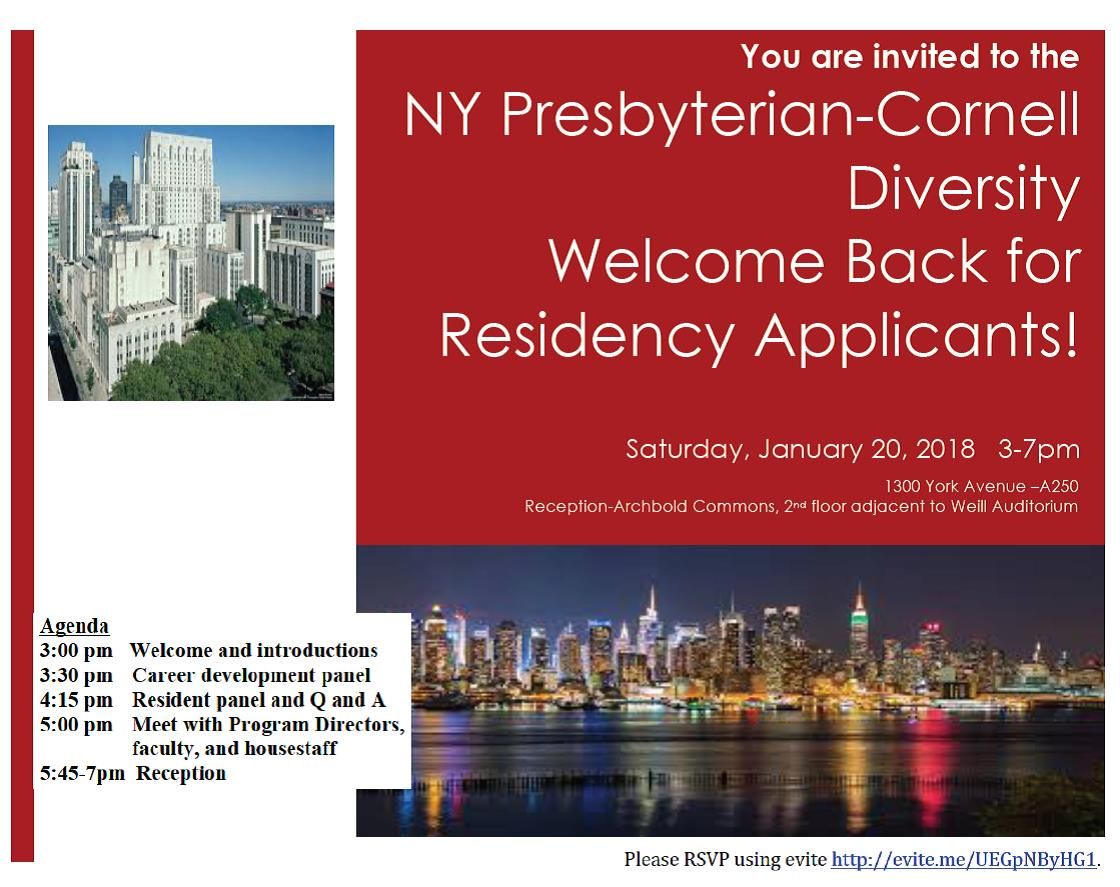 The day included introduction to institutional leadership including :
Associate Dean, Office of Diversity and Inclusion
Designated Institutional Official, Graduate Medical Education
Departmental Vice Chairs of Diversity
Medicine and Pediatric Residency Program leadership
Faculty panel 
Resident panel 
The program included residency specific breakout sessions where applicants had the opportunity to pose questions to residents, fellows and faculty from their program of interest.
Minority Visiting Scholar (MVS) Elective
The purpose of this visiting elective is to provide 4th year medical students from backgrounds presently underrepresented in medicine with exposure to general and subspecialty pediatric care in a tertiary medical center. In addition, we seek to facilitate increased diversity within our residency program in order to better reflect the community we serve, to increase cultural competency in the health care workforce, and to promote interest in academic medicine.
The award includes:  
Housing for the 4 week rotation
A modest stipend to cover other living expenses
Opportunities to meet with selected faculty members
Networking opportunities within the Department and College at large
Weill Cornell Medicine Scholarship Program for Visiting Underrepresented Minority (URM) Student Supplemental Application Form