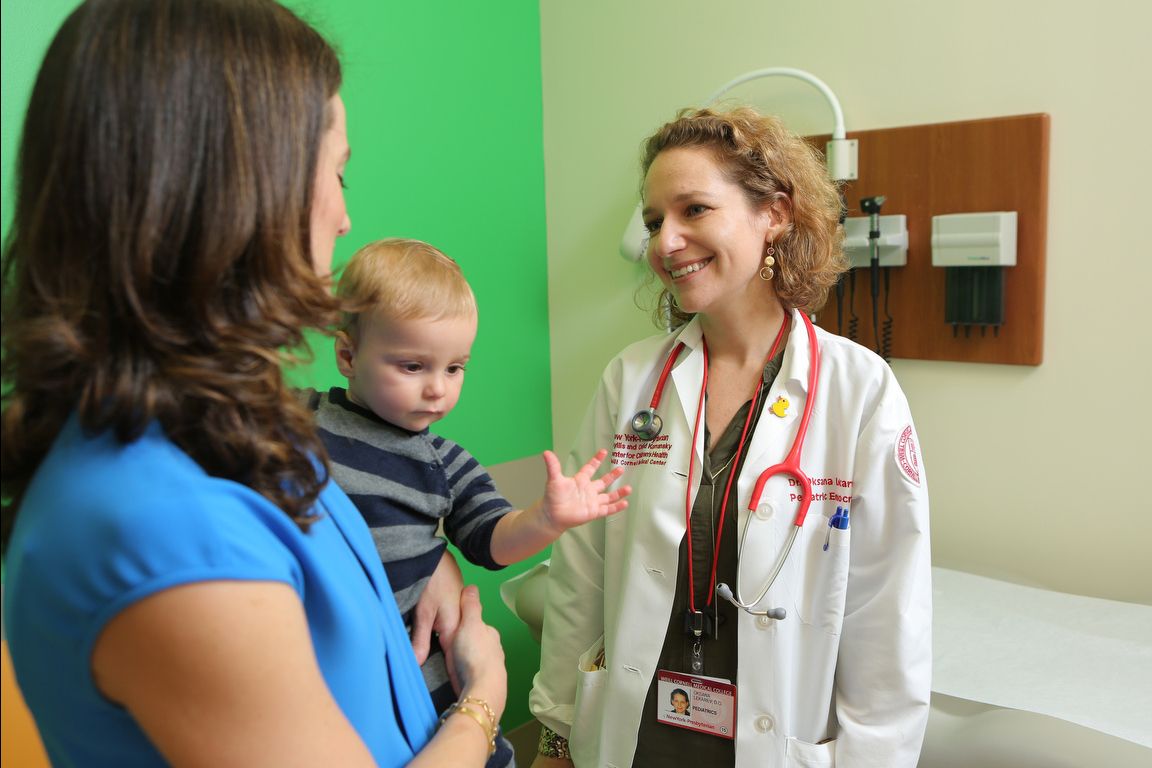 Congenital Adrenal Hyperplasia (CAH) is an inherited medical condition in which the adrenal glands do not function properly. There are several forms of CAH, all caused by different enzyme deficiencies which result in underproduction and overproduction of various hormones. Patients may not produce enough cortisol or blood sugar, or may produce high levels of androgens including testosterone. 
The Comprehensive Care Center for Congenital Adrenal Hyperplasia (CAH) healthcare team includes pediatric and adult endocrinologists, urologists, surgeons, newborn medicine specialists, nurse practitioners, patient care coordinators, dietitians, geneticists, genetic counselors, reproductive specialists and psychologists. We provide expert treatment for all classical, non-classical and rare types of CAH.
Services & Programs
Our specialists work together to provide a comprehensive plan for your child.  We offer:
medical treatment from birth to adulthood
surgical consultation and treatment for families and patients who wish to learn about genital surgery for girls with severe CAH
a transitional care program for adolescent children, to teach advocacy for their own healthcare as they enter their adult years
psychosocial support for children and families
nutritional counseling from registered dietitians
genetic counseling and prenatal testing for parents who know they carry the CAH gene
coordination of other medical care, including referrals to physicians with CAH treatment expertise
investigational therapies and the opportunity for children to participate in clinical trials that test new ways to care for CAH patients
Oksana Lekarev, D.O.
Associate Medical Director, Comprehensive Care Center for Congenital Adrenal Hyperplasia (CAH)
Clinical Assistant Professor of Pediatrics
Assistant Attending Pediatrician

Dix Poppas, M.D., F.A.C.S.. F.A.A.P.
Surgical Director, Comprehensive Center for Congenital Adrenal Hyperplasia (CAH)
Chief of Pediatric Urology
Rodgers Family Foundation Professor of Pediatric Urology
Professor of Urology in Pediatrics
Professor of Urology in Surgery (Plastic Surgery)
Professor of Urology in Obstetrics and Gynecology

Karen Su, M.D.
Clinical Associate Professor of Pediatrics
Associate Attending Pediatrician
What Sets us Apart
The Comprehensive Care Center for Congenital Adrenal Hyperplasia is the nation's first to be designated as a 'center of excellence' by the CARES (Congenital Adrenal Hyperplasia Research Education and Support) Foundation.
We have multiple specialists working together, and are therefore able to address various needs of our patients from birth into adulthood within one academic medical center
Our surgical director is one of the most experienced surgeons in the country working with children and adults with CAH.
We see a large number of patients with CAH from all over the U.S. and the world, making us one of the most experienced groups in the country.