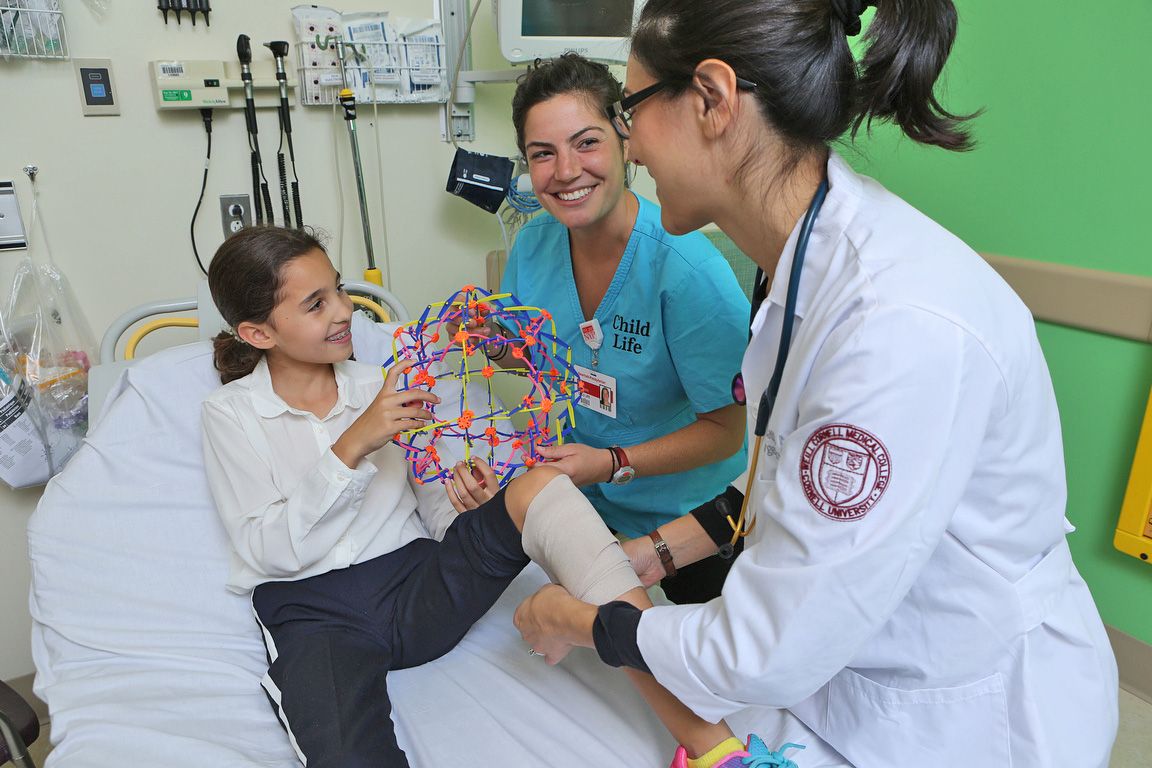 The Department of Pediatrics is affiliated with the Pediatric Emergency Department at the top-ranked NewYork-Presbyterian Phyllis and David Komansky Children's Hospital.  

Weill Cornell Medicine doctors and other healthcare specialists provide outstanding emergency care for ill and injured children and young adults, 24 hours a day, seven days a week in a dedicated, child-friendly space separate from the adult emergency room.   
The Pediatric Emergency Medicine service offers you and your child:  
Physicians board-certified/eligible in Pediatric Emergency Medicine.
Skilled pediatric emergency nurses experienced in caring for young patients.
Certified Child Life Specialists with emergency care expertise in child development, child advocacy, and in promoting a family-centered experience.
Ancillary support staff including social workers who are dedicated to serving children in our Pediatric Emergency Service.
Pediatric Urgent Care Telehealth from 6pm - midnight, seven days a week.  
Rapid pain management.  Our team will rapidly assess your child the moment he or she arrives, and provide comfort as fast as possible.

If you are concerned about your child's health, you may come to the Pediatric Emergency Service at any time without an appointment. You do not have to call the emergency department before you come.  If you have a primary care pediatrician, upon your request, we will contact your pediatrician when you are in the Emergency Department.
If your child has recently received treatment in the Emergency Department and you have concerns related to your child's medical health, you may call your primary doctor or you may return to the Emergency Department. Many conditions evolve over time, and you may notice that your child has developed new or different symptoms after being discharged. Our staff is always available to perform further evaluation, including additional testing, if needed.
Pediatric OnDemand Urgent Care (Telehealth), 6pm-midnight
The Pediatric Emergency Service offers Pediatric OnDemand Urgent Care (Telehealth) from 6pm - midnight, seven days a week.  Telehealth is a quick, convenient way to connect with one of our Pediatric Emergency Medicine doctors via a Secure Online Video Chat to get an instant examination, diagnosis, and treatment or referral for you or your child.  
Services & Programs
The Pediatric Emergency Room
We offer sophisticated facilities equipped with state-of-the-art medical technology which include:
A uniquely designed resuscitation area enabling management and monitoring of the most critically ill or injured child 
A dedicated procedure area, allowing our surgical specialists to treat minor trauma, orthopedic injuries and lacerations in a calm, safe arena, with the capability to sedate children in a monitored, controlled setting
A 3-bed observation area facilitating visual contact for children who require close monitoring
Child Life Services
An unexpected visit to the pediatric emergency service can be overwhelming and stressful experience.  Our Child Life specialists are certified, trained professionals who offer patients and families a supportive environment, and employ tools to enable a child to cope with a medical emergency.   By providing play therapy, distraction, emotional support and coping techniques, we enable our young patients to feel more comfortable and enable their medical care and healing.
NYP/Lower Manhattan Hospital 
Our Pediatric Emergency Medicine sub-specialists also care for children at NewYork-Presbyterian Lower Manhattan Hospital (Enter the Pediatric ER at 83 Gold Street), a full-service 24-hour Pediatric Emergency Department.  Children are seen in a separate, child-friendly area by pediatric emergency physicians, pediatricians, and nurses. Pediatric patients who require advanced specialty care will be transferred to our Upper East Side location.  
Pediatric OnDemand Urgent Care (Telehealth) is available from 6 p.m. - midnight, seven days a week.
Diagnosis & Treatment
The following descriptions may help you prepare for your visit to the Pediatric Emergency Room.
Triage
Triage is the process of evaluating the seriousness of your child's illness or injury. When you first arrive, you and your child will be seen by the triage nurse who is specially trained to take care of children in the Emergency Service. This registered nurse will ask you questions about your child's illness or injury, check your child's temperature and weight, and briefly examine your child. It is important to give all the needed information to the triage nurse. If your child has a life-threatening or very serious illness or injury, he or she will be seen by a doctor with the nurse right away. Before you arrive to the Emergency Department, your child's primary care provider may have called to tell us about your child and his or her condition.
Registration
After triage, the registrar will ask you for information such as your address and telephone number. This information will help us to contact you or your child's doctor about your child's care. Paperwork necessary for your ER visit will be given to you at that time.
Waiting Area
You may be asked to wait in the waiting area until an exam room or doctor is available to see your child. Patients may not be seen in the same order of their arrival to the Emergency Department.  Those children with the most serious illnesses and injuries will usually be given priority. A child life specialist is available during the early evening to offer activities, answer questions, and help keep you informed. Feel free to ask a nurse or doctor if he/she can give your child something fun to do; we have many toys, books and videos available. While you are in the waiting area, please do not to give your child anything to eat or drink without checking with the triage nurse first. If you notice that your child is getting sicker or is in more pain, tell the triage nurse right away.
Examination
As soon as possible, you and your child will be brought into an exam room. A team of doctors and nurses will care for your child. Your child may be evaluated by two different doctors. Your child may be initially seen by a resident physician, who is a medical doctor in training to care for children. Your child will also be seen by an attending physician, who is a medical doctor who is trained to care for children with emergencies. The attending physician supervises the care of your child. Depending on your child's condition, your doctor may order a blood test, X-rays, or other tests to help determine what is wrong with your child. Each test will be fully explained to you before it is performed.
A top priority in our Pediatric Emergency Service is to make sure each child is as comfortable as possible, and to rapidly assess and treat pain. If your child is in any pain, please make sure a doctor or nurse is notified so that the proper medication can be given.
Discharge
When your child's care is complete, the doctor or nurse will give you instructions on how to care for your child's illness or injury. They will also tell you about follow-up care. If you have any questions after you leave, call the Pediatric Emergency Services at (212) 746-3300 or you may also call your child's primary care provider.
Admission to the Hospital
Your doctors may decide that your child needs to stay in the hospital longer for further observation or tests. Arrangements will be made for your child to be moved to an inpatient bed on either our general pediatrics unit or the pediatric intensive care unit (PICU) as soon as possible.
What Sets us Apart
Our Pediatric Emergency Department is affiliated with NewYork-Presbyterian Hospital, which ranks in more pediatric specialties than any other New York metro area hospital in U.S. News & World Report's Best Children's Hospitals.