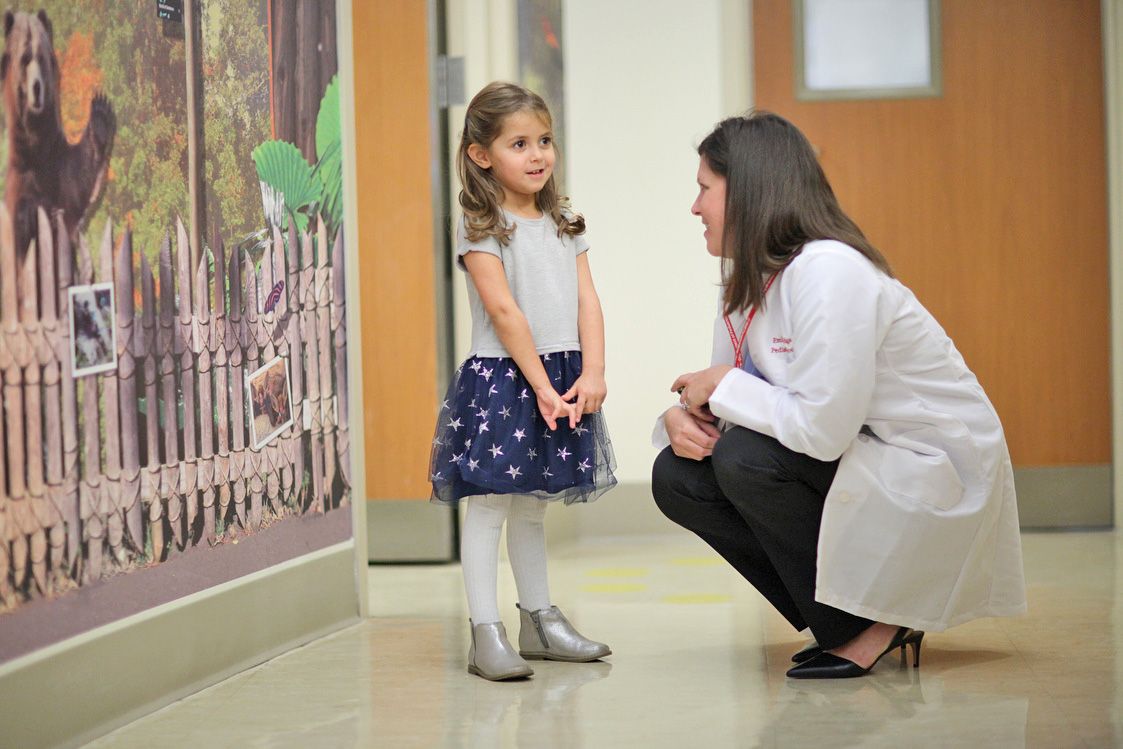 The Division of Pediatric Endocrinology at Weill Cornell Medicine (WCM) provides state-of-the-art care for children and adolescents with diabetes and pediatric endocrine disorders. Our team, led by Dr. Zoltan Antal, incorporates the expertise of pediatric endocrinologists, certified diabetes educators, nurses, nutritionists, and a pediatric nurse practitioner. In addition, the division provides collaborative care in partnership with child psychiatrists, psychologists, social workers, and other subspecialists in the WCM Department of Pediatrics.
We provide comprehensive care for a full range of pediatric endocrine disorders, including:
Congenital Adrenal Hyperplasia (CAH) and other adrenal disorders
type I and type II diabetes mellitus (T1D and T2D)
dyslipidemia
childhood obesity
Failure to Thrive (FTT)
growth disorders
pituitary hormone deficiencies (including growth hormone deficiency, diabetes insipidus and hypopituitarism)
irregular menses, hyperandrogenemia and Polycystic Ovary Syndrome (PCOS)
metabolic bone diseases including Osteogenesis Imperfecta (OI, brittle bone disease), McCune-Albright Syndrome (MAS), low bone mass and frequent fractures
calcium and phosphorus metabolism disorders, including rickets
disorders of puberty (early or delayed)
sexual differentiation disorders
thyroid disorders (congenital or acquired)
Turner Syndrome (TS)
Services & Programs
Comprehensive Center for Congenital Adrenal Hyperplasia (CAH)
The Comprehensive Center for Congenital Adrenal Hyperplasia healthcare team provides expert treatment for all classical, non-classical and rare types of CAH.  
Pediatric Diabetes Program
The Weill Cornell Medicine (WCM) Pediatric Diabetes Program provides comprehensive diagnosis, treatment and support for children with type 1 and type 2 diabetes and their families.
Learn more: Pediatric Diabetes Program webpage 
Pediatric Obesity Program
Our team uses various approaches to address the growing problem of obesity and its metabolic complications, including insulin resistance, elevated blood pressure, dyslipidemia, fatty liver, and the progression of insulin resistance to type 2 diabetes mellitus. Our efforts range from prevention and education to understanding the causes of obesity, studying medication effects on weight gain and metabolic changes, and providing treatment options to our patients.
Adolescent Bariatric Surgery Program:  Severely obese (BMI>40) adolescents at the end of pubertal development who have failed other treatment modalities and have serious co-morbidities may be eligible for this program tailored for adolescents ages 15-18 years.
Kids and Teens Healthy Weight Program:  Developed and led by a Pediatric Endocrinologist and Registered Dietitian, this program is a series of interactive, age-appropriate small group sessions that focus on healthy eating and other important food and nutrition concepts.  

Learn more:  Pediatric Obesity Program webpage
Growth, Thyroid and Puberty Disorders
When a child is noted to have altered growth or energy levels, or abnormally early or late onset of puberty, it is important to consider possible endocrine causes of these signs and symptoms. Children referred for any of these concerns will undergo a full history and physical examination, and, if deemed appropriate, blood testing, x-rays and other imaging studies.
We provide comprehensive on-site testing, including growth hormone stimulation, suppression testing, and leuprolide stimulation testing when required for further diagnosis and management. We work together with patients and their families to tailor appropriate treatment plans for every child. 
Low Bone Mass
A variety of medical conditions, and even treatments, can interfere with proper bone mineral accrual in children, leading to an increased risk of fractures and low bone mineral density. We offer a comprehensive evaluation for children who are at high risk or already diagnosed with low bone mineral density or frequent fractures, including DEXA scans when appropriate.
We offer both inpatient and outpatient treatments for bone disorders, including bisphosphonate infusions when required.
Diagnosis & Treatment
Treatments of endocrine disorders are complex and may include oral medication, daily home injections or specialized in-office injections on a recurring basis.
We also offer more detailed diagnostics if needed, including testing for growth hormone deficiency, early or delayed puberty, or adrenal insufficiency. These specialized tests are scheduled separately.
What to expect
As an academic institution, we are dedicated to training future physicians. At most of your visits, you will find physicians-in-training as your first point of contact. They may be medical students, pediatricians who are completing residency, or endocrinology fellows who have completed a pediatric residency. They are always under the direct supervision of your primary provider, who will be present during all visits.
At all visits, a comprehensive history and examination will be performed. Because much of what we do is engrained in growth and development, examinations often include staging pubertal development. It may help an older child, or a child who is anxious, to know that we will be examining their entire bodies (their pediatricians likely are, as well).
On occasion, blood tests, x-rays, ultrasounds or MRIs will be required for further evaluation. We offer same-day, on-site phlebotomy and simple radiology studies. However, some tests require specific timing (i.e. early morning) and others require scheduling a radiology appointment, and we may need to schedule your child's testing for a future date under these circumstances.
What Sets us Apart
The first nationally recognized comprehensive care center for CAH.
A comprehensive weight loss management program with accreditation as a bariatric surgery center.
Extensive experience managing complex metabolic bone diseases in collaboration with colleagues at the Hospital for Special Surgery.
Personalized and individualized care management plans for children with diabetes mellitus.
Emphasis on use of medical technology and electronic healthcare applications to improve care and communication with patients and families.