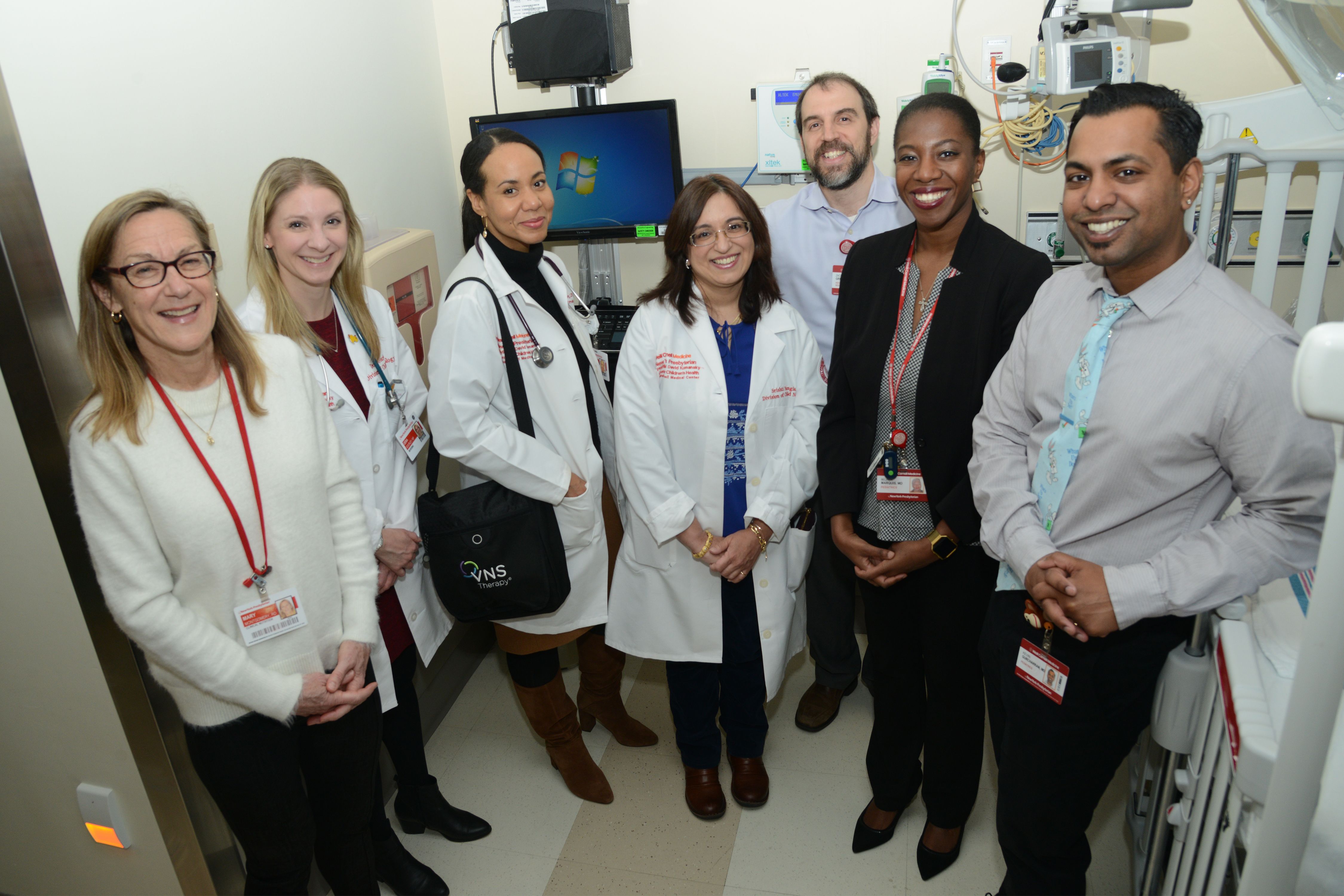 At our specialized, state-of-the-art practice, we pinpoint your child's seizures and what may be triggering them, and work with you to tailor a plan of care that meets your child's needs.  Our goal is to provide an immediate assessment, thorough evaluation, accurate diagnosis and treatment plan.  Through our multidisciplinary team, you will meet specialists dedicated to improving your child's quality of life and navigating the challenges that are associated with a diagnosis of seizures and/or living with epilepsy.  
We are affiliated with New York City's top-ranked Phyllis and David Komansky Children's Hospital at NewYork-Presbyterian/Weill Cornell Medical Center. 
Services & Programs
We offer multiple subspecialty clinics/programs that offer expertise in all areas of epilepsy, particularly in treating early onset epilepsy and refractory epilepsy:
New onset seizure clinic
Infantile spasms clinic
Lennox Gastaut clinic
Ketogenic Diet Program
Genetics Epilepsy Clinics
Tuberous Sclerosis Complex
Dravet Syndrome/PCDH19
Multidisciplinary Joint Neurosurgery-Epilepsy Clinic
Diagnosis & Treatment
When you come to us for epilepsy care, we offer:
A Multidisciplinary Approach
Your child has access to a team of pediatric specialists including pediatric epileptologists, pediatric neurologists, pediatric neurosurgeons, neuroradiologists, electroencephalogram (EEG) technologists, nurse practitioners, psychologists, psychiatrists, and dietitians.  Moreover, if your child needs health care for another medical condition, we have the specialists and subspecialists onsite to meet those needs as well.
Dedicated Pediatric Epilepsy Monitoring
One of the most important components of your child's epilepsy care is the diagnosis. We use the most advanced EEG technology to pinpoint the location, type, and severity of your child's seizures.  In addition to neurological imaging studies, we use sophisticated tools to assess your child's brain function, including EEG monitoring and special electrophysiologic mapping techniques. We use the findings of these tests to plan surgery in children with epilepsy that cannot be adequately controlled with other therapies.
Customized Therapy
We tailor therapy to your child's needs, taking into account other factors — such as lifestyle, stress, sleep habits, and diet — that may serve as triggers for seizures. Available treatments include antiseizure medications, dietary therapy and vitamins, and surgery for those children whose seizures cannot be controlled with nonsurgical methods.
Specialized Care for Children with Other Disorders
Some disorders may predispose children to seizures, such as tuberous sclerosis complex, neurofibromatosis, and autism spectrum disorders. If your child has one of these disorders or another genetic disorder that can cause seizures, our dedicated specialists with expertise in these areas are available.
Transitional Care to Adulthood
We recognize that epilepsy is a lifelong condition and that children's needs change as they get older, particularly during their teenage years. We work with teens to help them understand their responsibility for their health and to hear what they have to say about their personal goals. We use this information to tailor their therapy as they get older to meet their current needs at each stage of life.  As they get ready to leave their teen years, we work with them and with our adult epilepsy treatment specialists to facilitate the gradual transition from pediatric to adult care, ensuring continuity of treatment.
Care for Your Family
The needs of a child with epilepsy affect the entire family. We work closely with your family to address your child's needs and to assess how those needs influence your family's dynamic. For school-age children who require longer-term care, we have staff available to help children keep up with their educational development.
Resources
Epilepsy Foundation: Website includes education, wellness, and community resources from nationwide non-profit dedicated to improving the lives of people with epilepsy.
American Epilepsy Society: Professional organization promoting education and research.
What Sets us Apart
Refractory epilepsy patients are seen by a multidisciplinary team during one office visit that includes an epileptologist, neurosurgeon, ketogenic dietician, social worker, and a neuropsychologist.
Our doctors are affiliated with NewYork-Presbyterian Hospital, included on the 2018-2019 US News & World Report's Best Children's Hospitals rankings for Pediatric Neurology & Neurosurgery – and ranked #1 in New York City.