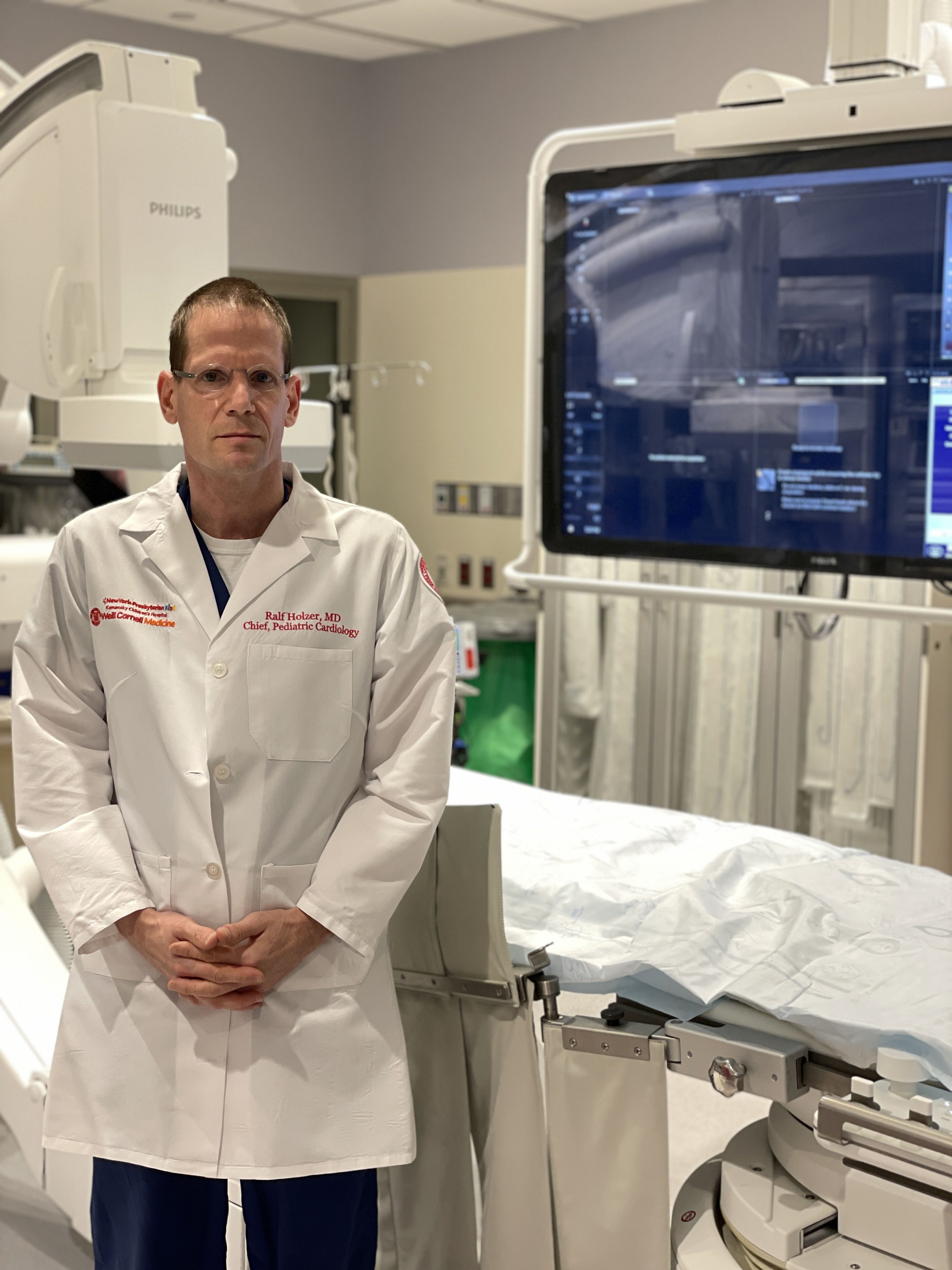 Pediatric Cardiac Catheterization at Weill Cornell Medicine under Dr. Holzer's leadership
Statistics and Fast Facts:
Dr. Ralf Holzer is the Director of Pediatric Cardiac Catheterization and Division Chief for Pediatric Cardiology
More than 20 years experience treating patients with congenital heart disease
Experience of over 2,000 i

nterventional 

cardiac catheterization procedures (not including biopsies and diagnostic procedures) – about 1,700 pediatric and 300 adult
Oldest patient treated: 85 years
Smallest patient treated: 700g (1.5 lbs)
Expert in all types of transcatheter interventions (including pulmonary valve implant, closure of septal defects, PDA closure in premature infants, pulmonary artery and aortic stent placement)
Superior outcomes based on audited data:

Low risk-standardized adverse events (IMPACT registry)
Low radiation exposure (C3PO)

First cardiologist implanting a transcatheter pulmonary valve using a double balloon / flower-blossom technique
National leadership positions in many cardiac catheterization-related Quality Improvement (QI) initiatives and registries (IMPACT and C3PO)
Distinguished live case operator at large international conferences
More than 100 peer-reviewed publications and book chapters
Services & Programs
We offer the full spectrum of interventional services for children and young adults of all ages with congenital heart disease.  
Cardiac Catheterization (Interventional Cardiology) Program
Cardiac catheterization, or interventional cardiology, is a procedure used for the diagnosis and management of patients with congenital (and acquired) heart disease. A small tube is inserted into the groin and a long catheter advanced into the heart and blood vessels. X-ray equipment is used to monitor the course of the catheter, and to document specific images that are acquired during the procedure, such as angiograms (which is the injection of a contrast agent into the chambers of the heart and/or great vessels). This technique facilitates not only diagnostic procedures, but also therapeutic interventions, such as the closure of holes within the heart, closure of abnormal blood vessels, opening of narrowed blood vessels, and implantation of vales into the heart.
Procedures are performed in a dedicated state-of-the-art cardiac catheterization laboratory (including transcatheter valves and covered stents), and modern bi-plane imaging equipment. In many older patients, we perform the procedures as team of pediatric and adult congenital interventional cardiologists. 

We offer the full spectrum of interventional cardiac catheterization procedures including (but not limited to) the following:
Closure of septal defects

Atrial septal defects (ASDs)
Ventricular septal defects (VSDs)
Surgically created fenestrations (e.g. after Fontan procedure)

Closure of abnormal vascular communications

Patent ductus arteriosus (PDA)
Collateral vessels
Pulmonary arterio-venous fistulas
Coronary fistulas

Transcatheter valve implantation
Balloon angioplasty and/or stent implantation of stenotic blood vessels

Coarctation of the aorta
Simple and complex stenosis of branch pulmonary arteries
Stenotic superior and inferior caval vein
Stenotic intracardiac baffles and Fontan

Recanalization or opening of completely occluded blood vessels
Opening of atretic heart valves (valves that were not formed before birth)
Creating and maintaining of communications within the heart

Balloon atrial septostomy
Stenting of the atrial septum


In some cases, some procedures are performed outside the cardiac catheterization laboratory in the operating room, in close cooperation with our cardiac surgical colleagues led by Dr Emile Bacha (hybrid procedures).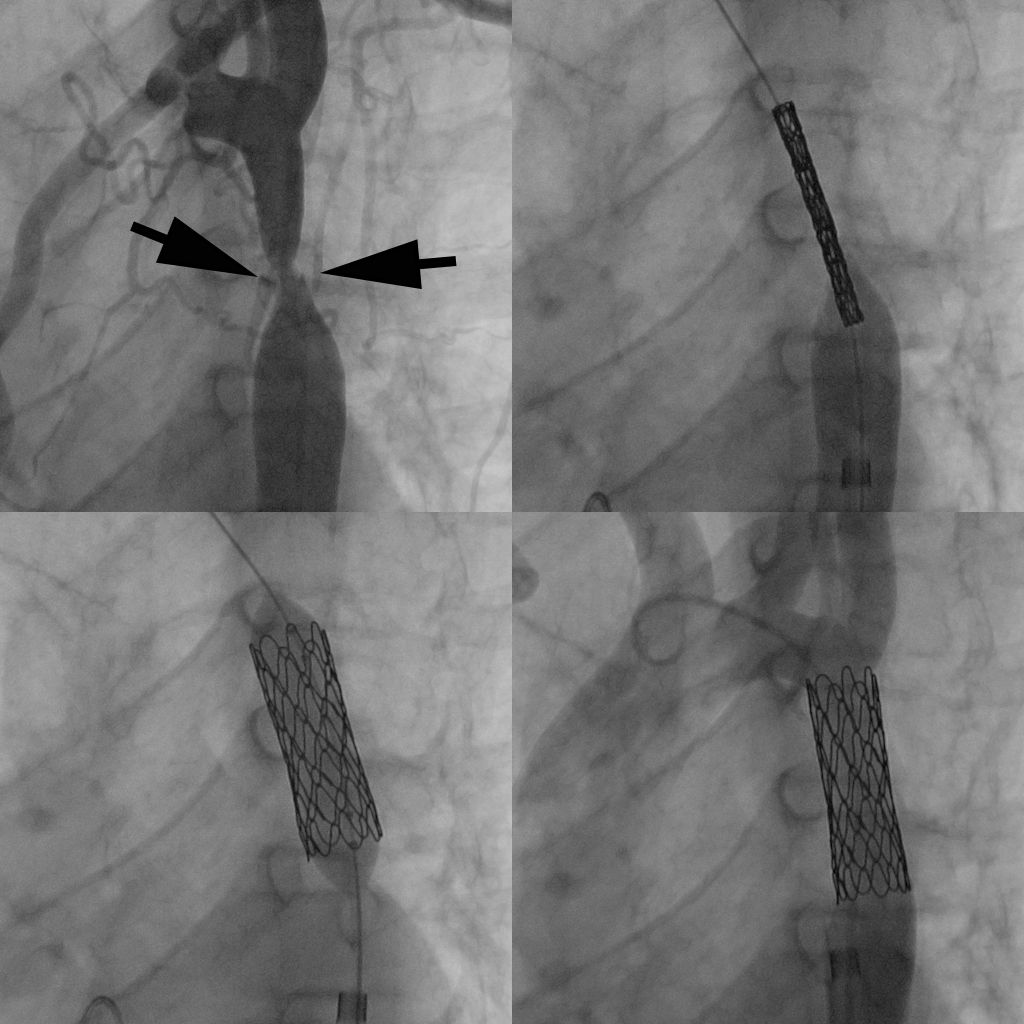 Ralf Holzer, M.D., M.S.
Chief, Pediatric Cardiology
Director, Pediatric Cardiac Catheterization
David Wallace-Starr Foundation Professor of Pediatric Cardiology
Professor of Clinical Pediatrics
Attending Pediatrician
What to expect
Before the Procedure
Children and young adults who undergo cardiac catheterization in our cardiology practice will meet with the interventional cardiologist at a consultation prior to the day of the procedure. At that time, the procedure's details, possible risks and adverse events specific to the procedure will be explained in detail. When possible, our team will use case examples and models to demonstrate the technical elements of the procedure. 
In most cases, no blood tests are needed prior to the procedure with laboratory tests being taken once the child is under anesthesia, thereby avoiding unnecessary distress to patients and families.
In addition to the interventional cardiologist performing the procedure, we have a dedicated cardiac interventional nurse practitioner who will be a primary point of contact for patients and families, and who will provide detailed pre-procedural instructions and guidelines. 
Day of Procedure
Most patients will be asked to arrive at our center in the morning of the procedure, when they will again meet the interventional cardiologist and nurse practitioner for any additional questions or concerns, as well as the anesthetists who will provide anesthesia during the procedure. 
The length of the procedure varies, depending on the individual patient, and can last anywhere between one to six hours, or sometimes longer. Most procedures are performed under general anesthesia. During the procedure, parents and families will be provided with regular progress updates. When the procedure is done, patients are brought briefly to a recovery area.  They are then prior to being admitted to the pediatric (or adult) floor, or in some cases, to the pediatric (or adult) intensive care unit. The interventional cardiologist will speak to parents and family immediately following the procedure and explain the details of what was performed.
While some patients can be discharged home within 6 hours, most will be observed overnight. 
After the Procedure (Post-Procedure)
The day after the procedure, some tests such as a chest X-Ray or echocardiogram may need to be performed. Prior to discharge, parents will meet with the interventional cardiologist one more time to discuss any additional questions or concerns. Families will be provided with detailed discharge instructions and a follow-up with the interventional nurse practitioner will be arranged for four weeks following the procedure. At the follow-up visit, the vascular entry site (usually the groin) will be inspected and the patient evaluated for any problems or concerns relating to the cardiac catheterization procedure. After this visit, further follow-up will be arranged with the patient's original pediatric cardiologist.
What Sets us Apart
Dr Ralf Holzer, chief of Pediatric Cardiology and Director of Pediatric Cardiac Catheterization, is an internationally recognized expert in the transcatheter treatment of patients with congenital heart disease.  Dr. Holzer has been involved in many of the trials that led to approval of the devices presently used to treat children and young adults with heart disease. He has lectured at many international meetings and has demonstrated and taught interventional techniques through live case demonstrations.
The Division of Pediatric Cardiology is affiliated with top-ranked NewYork-Presbyterian Komansky Children's Hospital at Weill Cornell Medical Center.
Videos
(All Surgeries Performed by Dr. Ralf Holzer)
CASE 1
This image (Figure 1) is from 17-year old girl who had a narrowing of the distal main pulmonary artery (the vessel going to the lungs) as well as an incompetent (leaky) valve, which was treated through transcatheter valve implantation. The procedure was transmitted live via satellite to the Pediatric Interventional Cardiac Symposium (PICS) in Chicago. Due to the specific location of the narrowing, the valve had to be implanted over two balloon catheters simultaneously, which was the first time this technique had ever been successfully performed anywhere.  The top image documents the expansion with two balloons and the bottom image shows an angiography after valve implantation, documenting no residual leak or narrowing.




CASE 2:
This 6-year-old boy's large atrial septal defect (hole between the two collecting chambers of the heart) was closed using an AMPLATZER septal occluder.  Figure 2 documents a baseline angiography documenting a large ASD (top left image, arrows outlining the ASD), balloon sizing for device size determination (top right), device positioned across the ASD (bottom left), and final angiography after release of the device documenting no residual shunt (flow) across the ASD (bottom right).
CASE 3:
This 15-year old boy was born with a tight coarctation (a narrowing of the aorta), which was relieved through implantation of a covered stent.  Figure 3 documents the narrowing (top left image, in between arrows), with positioning of a covered CP stent (top right image), and stent expansion (bottom left image), and final angiography documenting complete relief of the narrowing with the vessel now wide open (bottom right image). The video documents the procedure's stages. 
CASE 4:
This 2-day old infant was born with pulmonary atresia (the valve to the lungs was completely closed, requiring the blood to go the lungs via a different route). This was treated through radiofrequency perforation of the valve, followed by balloon valvuloplasty (balloon dilation). Figure 4 shows the closed off valve without any flow to the lungs (top left), which then required RF perforation (top right), and balloon valvuloplasty (bottom left), leading to a wide-open valve to the lungs (bottom right). The video documents all procedural stages.
CASE 5:
This 3-year-old child was born with complex congenital heart disease and had undergone multiple cardiac surgeries and cardiac catheterization procedures. The child developed a complete occlusion of the left pulmonary artery (artery going to the left lung), which required recanalization (re-opening) using radiofrequency energy, followed by implantation of an endovascular stent.  Figure 5 documents the occluded left pulmonary artery (top left, level of occlusion highlighted by arrow), the radiofrequency wire perforating through the occluded segment (top right, highlighted by arrow), the implantation of an additional stent (bottom left), as well as the final result with excellent flow to the re-opened left pulmonary artery (bottom right).
CASE 6:
This 6-week-old infant with a large muscular ventricular septal defect (VSD) (hole between the two pumping chambers), in whom a device was deployed to close the VSD using a Hybrid approach through a small subxyphoid (below the sternum) incision performed by our surgical colleagues.  The video initially documents the VSD (labelled as VSD) and then shows the device deployment with no residual flow across the hole at the end of the procedure.
CASE 7:
This image (Figure 6) shows the procedural stages of occluding a large patent arterial duct (PDA) in an 11 month male infant. The left sided image documents a large PDA (arrow), while the middle image shows a device being deployed across the PDA (but still attached to a cable that allows recapturing the device if needed). The right sided image documents the PDA bow completely occluded with a device and the device having been detached from the original cable.