The Division of Pediatric Cardiology at Weill Cornell Medicine (WCM) and the Phyllis and David Komansky Center for Children's Health is an integral part of the Congenital Heart Center of NewYork-Presbyterian (NYP) Hospital.
Our cardiology team is dedicated to the pre-natal and post-natal diagnosis, management and treatment of a wide range of cardiac conditions, including: congenital heart disease, arrhythmias and conduction anomalies, cardiomyopathy and heart failure, pulmonary hypertension, valvar heart disease, hypertensive heart disease, syncope, chest pain, and any other form of heart disease that affects fetuses, neonates, children and/or young adults.
Additionally, our extended team of pediatric cardiologists at WCM provide care for adult patients whose heart disease is either congenital in origin or acquired during childhood (including rheumatic fever, Kawasaki disease and others).
State-of-the-art care and services provided by our team include:
Management of patients undergoing cardiac surgery
Therapeutic and diagnostic cardiac catheterization (including transcatheter valve implantation)/interventional cardiology
Pediatric electrophysiology

Arrhythmia and pacemaker services
Electrocardiogram (EKG), holter monitoring and event recording

Adult congenital heart disease care
Exercise and stress testing
Echocardiography
Fetal cardiology
Non-invasive cardiac computed tomography (CT) and Magnetic Resonance Imaging (MRI)
Specialist outpatient services
Services & Programs
We offer the full spectrum of interventional services for children and young adults of all ages with congenital heart disease.  Learn more: Cardiac Catheterization Program webpage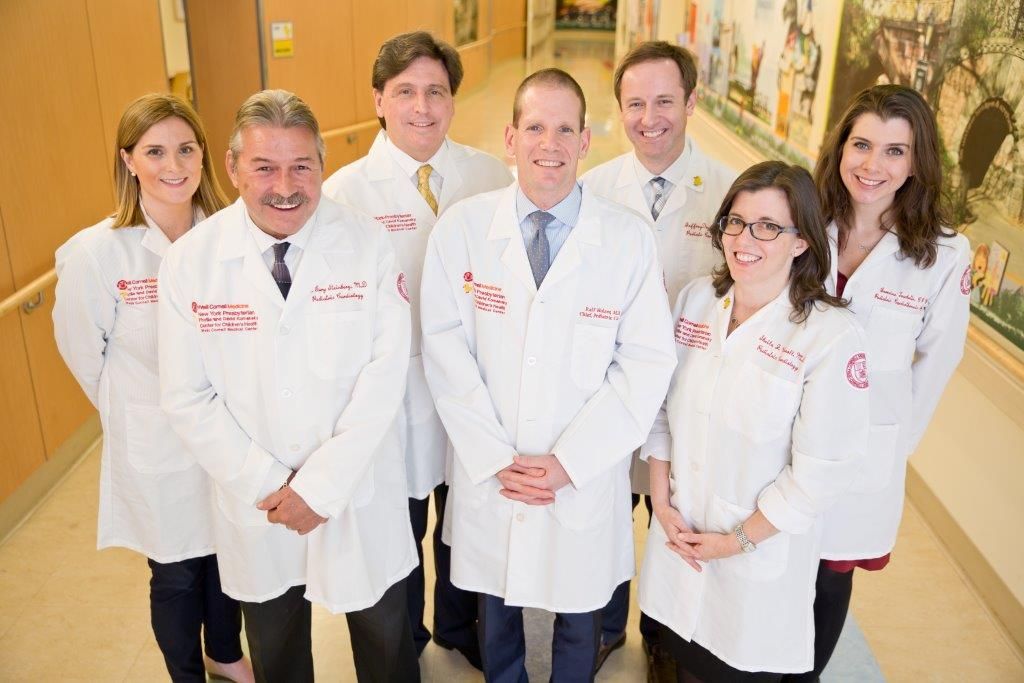 What Sets us Apart
Our pediatric cardiologists are affiliated with the Congenital Heart Center at NYP - the highest-ranked center within the New York metropolitan area providing cardiac services for pediatric and adult patients with congenital heart disease.
WCM cardiologists specialize in transcatheter interventions and non-invasive imaging, dedicating themselves to continuous quality improvement and transparent outcome reporting.