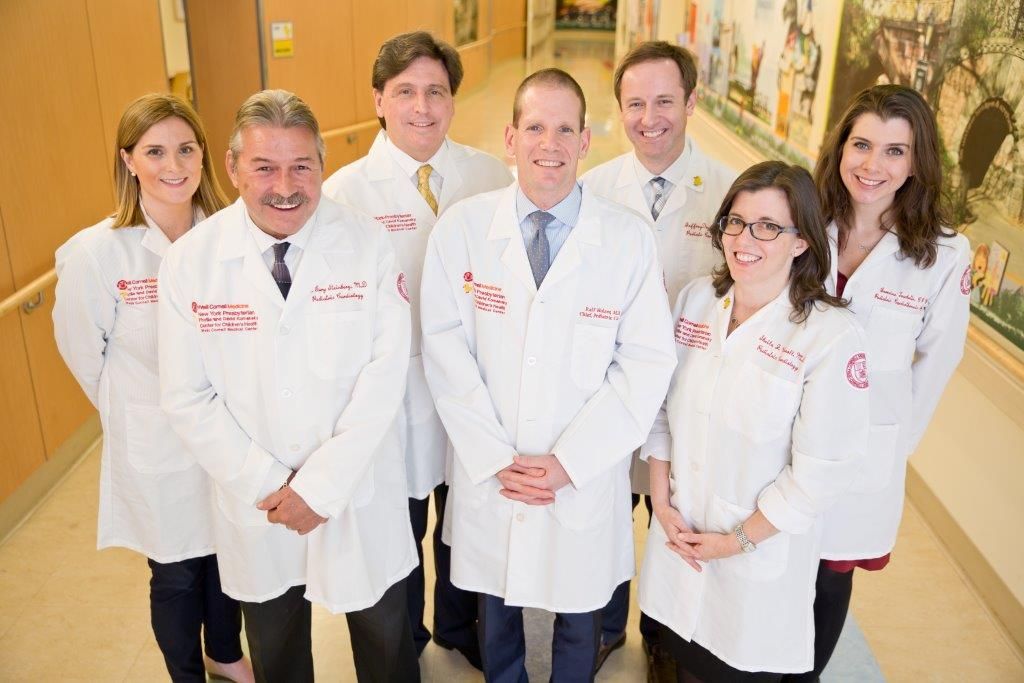 The Division of Pediatric Cardiology at Weill Cornell Medicine (WCM) and the Phyllis and David Komansky Center for Children's Health is an integral part of the Congenital Heart Center of NewYork-Presbyterian (NYP) Hospital.
Our cardiology team is dedicated to the pre-natal and post-natal diagnosis, management and treatment of a wide range of cardiac conditions, including:
congenital heart disease
arrhythmias and conduction anomalies
heart murmur
palpitations
cardiomyopathy and heart failure
pulmonary hypertension
valvar heart disease
hypertensive heart disease
syncope (fainting)
chest pain
Kawasaki Disease
Marfan Syndrome
other forms of heart disease that affect fetuses, neonates, children and/or young adults
Additionally, our extended team of pediatric cardiologists at Weill Cornell Medicine provide care for adult patients whose heart disease is either congenital in origin or acquired during childhood (including rheumatic fever, Kawasaki disease and others).


Services & Programs
Outpatient Services
Our outpatient division has the capability to evaluate any heart concern that either you or your pediatrician believe need the attention of a pediatric cardiology specialist.
Easy and convenient access to our pediatric cardiologists is important. In addition to the ability to schedule visits Monday-Friday, we also offer evening clinics every Tuesday, to accommodate those patients who are unable to attend at regular daytime clinic hours. 
During your visit, your child will be seen and evaluated by a team specially trained in the care of children. Your team will include technicians, nurses, and physicians all dedicated to the well-being of children. A typical visit will begin with the assessment of vital signs such as heart rate, blood pressure, and oxygen saturation followed by the performance of an electrocardiogram (EKG). You will then meet with your physician, who will take a thorough history about your current concerns as well as other medical conditions and heart problems that may be present in your family.  A physical examination will be performed with detailed attention to the cardiovascular system.
Based on this evaluation, your pediatric cardiologist will determine if further testing is needed. Additional testing may include an echocardiogram (ultrasound or sonogram of the heart), Holter monitor (heart rhythm monitor), or exercise stress testing.  Many of these tests can be performed on the same day as your visit.
Magnetic Resonance Imaging (MRI)
Magnetic Resonance Imaging (MRI) is a non-invasive test that uses a large magnet and radio waves to produce detailed 3-dimensional pictures of the structure and function of the heart and blood vessels. Unlike an X-Ray or CT scan, an MRI does not use ionizing radiation.  Using MRI, we can diagnose and evaluate conditions such as congenital heart disease, Marfan syndrome, and aortic aneurysms.
We offer the full spectrum of interventional services for children and young adults of all ages with congenital heart disease.  Procedures are performed in a dedicated state-of-the-art cardiac catheterization laboratory.  In older patients, we perform the procedures as a team of pediatric and adult congenital interventional cardiologists. 

At our lab, we will evaluate the structure and function of your child's heart without pain or radiation.  In most cases, your child's echocardiogram will be done as part of the visit to see the Pediatric Cardiologist. In some circumstances, patients may have an echocardiogram without an office visit with our specialists, if one of your doctors has certain questions about your child's heart that we can answer with the echocardiogram alone. Either way, we are here to make your visit as fast and pleasant as possible.

While a screening evaluation of the fetal heart is possible during regular obstetric scanning and is appropriate for women at low risk, women with risk factors for fetal congenital heart disease may benefit from a detailed fetal echocardiogram performed by a physician who is a specialist in evaluation of the fetal heart.  Our specialties include developmental differences of the fetal heart (congenital heart disease), fetal arrhythmias (rhythm disorders) and maternal medical conditions which may affect the fetal heart (maternal diabetes, autoimmune disease or exposure to certain medications).  
The Pediatric Cardiothoracic Surgery Program, which is part of the Congenital Heart Center of NewYork-Presbyterian Hospital, provides a wide spectrum of surgical services with high level care for infants, children and adults with congenital heart disease and is led by Dr. Emile Bacha, a world renowned expert in the surgical care of children and adults with congenital heart disease. 
An irregular heart rate is called an arrhythmia, and can occur at any age and during different times.  Often, your child does not feel the irregular rhythm and it is discovered unexpectedly during a routine physical examination. Your child's doctor may suggest consultation with a pediatric cardiologist if an arrhythmia is detected.  Non-invasive tests that may be performed to help your doctor make a diagnosis include an electrocardiogram (EKG or ECG), Holter monitor, treadmill exercise test, and an event recorder.  
What to expect
Many cardiology tests can be performed on the same day as your visit. If a transthoracic echocardiogram (ultrasound of the heart) is needed, it will be performed during your visit in our office (either before or after seeing your physician).  
Test results will be reviewed with you, and your cardiologists is available to answer questions during your visit. Sometimes, further testing will be provided (such as 24 hour Holter monitoring), or a return visit may be needed for additional tests (such as exercise stress testing). A typical echocardiogram takes between 30-45 minutes to complete. Our dedicated pediatric echocardiography rooms are designed to maximize the comfort of our patients and families, allowing our office to perform almost all of our studies without the need for sedation or medications. While we do not routinely use sedation for echocardiograms, we have the capability in the rare case it is needed.   
Following the visit, our physicians remain available to you by phone for discussion regarding final testing results and/or ongoing symptoms.
What Sets us Apart
Our pediatric cardiologists are affiliated with the Congenital Heart Center at NYP - the highest-ranked center within the New York metropolitan area providing cardiac services for pediatric and adult patients with congenital heart disease.
WCM cardiologists specialize in transcatheter interventions and non-invasive imaging, dedicating themselves to continuous quality improvement and transparent outcome reporting.