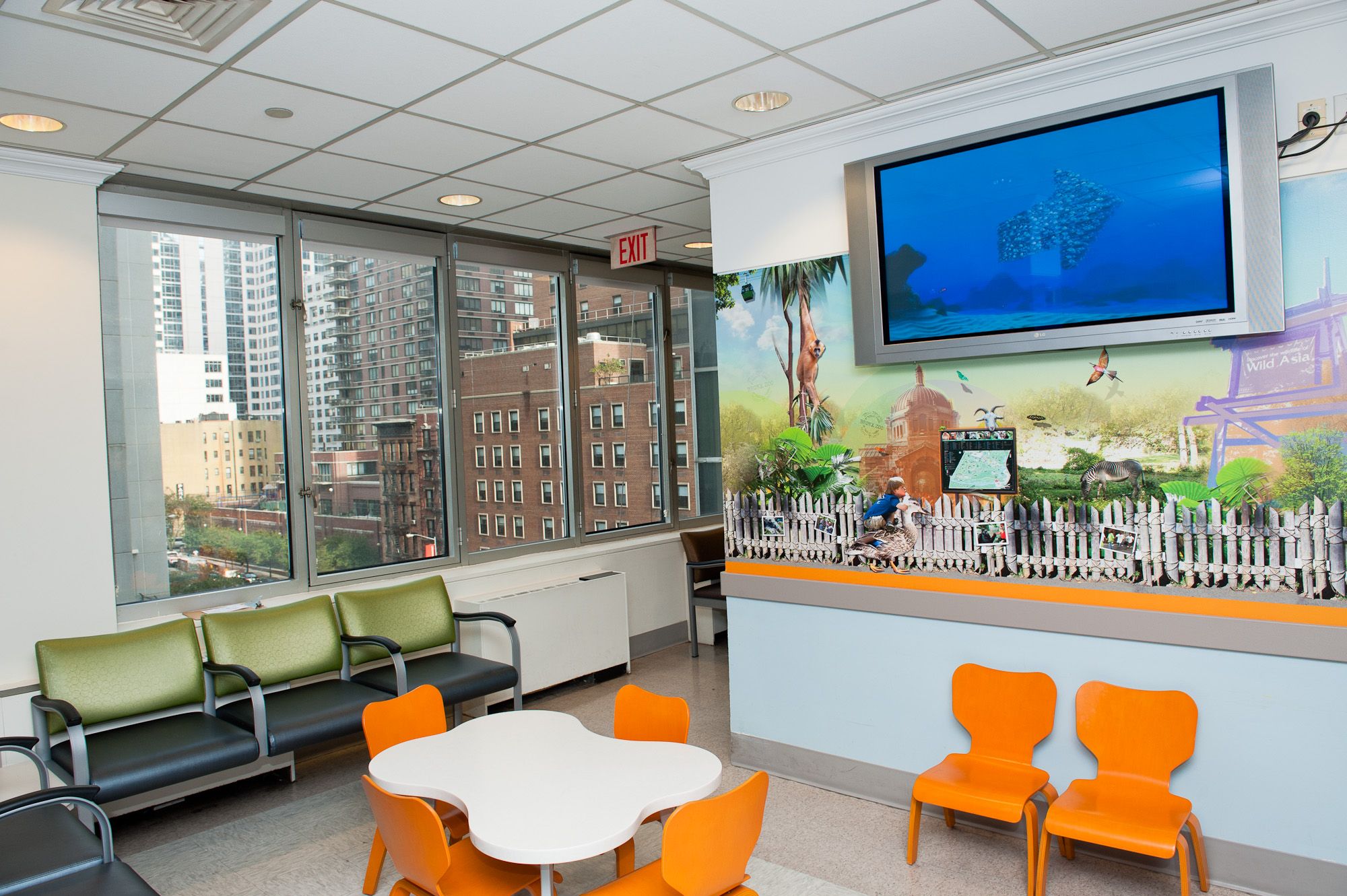 The Division of General Academic Pediatrics at Weill Cornell Medicine (WCM) is devoted to the care of children from birth through adolescence. Our mission includes research, education, clinical care, advocacy and community outreach.
Services & Programs
General Inpatient Care
Faculty from the General Academic Pediatrics Division serve as hospitalists, general pediatricians with special expertise in managing hospitalized patients, working in the general inpatient unit of the NewYork-Presbyterian Phyllis and David Komansky Center for Children's Health. They care for a range of patients, from well newborns to children with complex diagnoses, and establish continuity of care among specialists and primary care doctors. 
Well Baby Nursery 
Our well baby nursery team cares for healthy newborns at NewYork-Presbyterian Hospital's Upper East Side at NewYork-Presbyterian Alexandra Cohen Hospital for Women and Newborns and at the NewYork-Presbyterian Lower Manhattan Hospital campus. Both hospitals have a full neonatal intensive care unit (NICU).  Complete care of term and near-term newborns from delivery through discharge, including anticipatory parental guidance, is the focus of our nursery team.
Our well baby nursery care team includes attending pediatricians, pediatric residents, pediatric nurse practitioners, lactation specialists, physician assistants and other specialized healthcare professionals. The nursery team provides:
family-oriented care - one nurse is assigned to care for both mother and newborn. Mothers are encouraged to "room-in" with their infants in order to promote bonding, parenting skills and successful breastfeeding. Parents may also have their baby cared for in the nursery at any time.
complete physical examination of infants upon admission to the nursery, and again on the day of discharge
assessment and management of breastfeeding couplets
daily assessment of infants by an attending pediatrician and nursery team
management of infants with common problems including weight loss, jaundice and breastfeeding issues
performance of mandated New York State screening tests for all infants
administration of the Centers for Disease Control (CDC)-recommended birth dose of the hepatitis B (HBV) vaccine

Breastfeeding and Parenting Support
When possible, breastfeeding is encouraged for all infants. Members of the nursery staff, including post-partum nurses, lactation consultants and pediatricians, are available to assist with breastfeeding skills. Daily breastfeeding classes are led by a certified lactation consultant from Sunday through Friday for all interested mothers.  Infant care and parenting skills are emphasized throughout your hospital stay. Experienced pediatricians and nursing staff are available 24 hours a day to teach mothers and their partners about caring for themselves and their infants. Each parent also receives a booklet with information about infant and post-partum care upon admission. In addition, daily infant care educational classes for parents are held from Sunday through Friday.

Newborn Security
Newborn security is of utmost importance to our nursery staff. Mothers, partners and infants are given matching identification bracelets, and security transmitters are attached to infants from their time of admission until their discharge.


Outpatient Care
Pediatric Primary Care
Pediatric Primary Care is our largest outpatient program. Children are seen for regular checkups, sick visits, routine vaccinations and screening tests, and are examined by the same team of doctors and nurses each visit. We provide mental health screening, support and evaluation through our team of medical providers and social workers, and direct care through our pediatric psychiatric nurse practitioner. In addition, Women, Infants and Children (WIC) forms and blood work can be completed quickly by our medical surgery technicians. (WIC form and blood work appointments should be made one week before WIC appointments).
Pediatric Asthma Program
The Weill Cornell Medicine Pediatric Asthma Program provides care to children who have a higher risk of asthma-related complications. Asthma management may be more successful with the right tools and support.  
Adolescent Care
Teenagers are seen in our adolescent program by a specialized team of health care professionals, including adolescent medicine specialists, social workers, health educators, and a dedicated adolescent nurse. The program is designed to provide comprehensive healthcare for adolescents, including general medical care, gynecologic care (including contraceptive counseling), STD testing and treatment, and mental health counseling. Both morning and afternoon appointments are available for adolescent visits.
Child Protection
The Child Protection Team at NewYork-Presbyterian Hospital/Weill Cornell Medical Center evaluates children who are suspected victims of physical and sexual abuse. Our child protection program is associated with both the National Children's Alliance and the multi-borough Child Advocacy Center. The Child Protection Team is regularly consulted by the Office of the District Attorney and the Office of Administration for Children's Services to evaluate difficult and challenging cases.
Teenage Parenting and Pregnancy (TAPP)
The Teenage Parenting and Pregnancy (TAPP) Program provides care for adolescent mothers and their babies. In addition to general healthcare screening for both, issues of adolescent parenting are addressed at every visit. A dedicated team of social workers also follow each mother during pregnancy, and continue to work with them afterward.
Health for Life
Health for Life provides children with year-long personalized weight management programs. Children are evaluated and counseled by a team that includes a physician, social worker, nutritionist and exercise specialist. Visits include both individual and group activities, and help children make lifestyle shifts that include healthier eating and increased physical activity. Our unique parent group feature also helps with overcoming individual and family barriers that impede healthy lifestyles.
Special Needs Program
Our special needs program is specifically designed to meet the needs of medically complex, fragile children, and supports families using a multidisciplinary approach including case management and extended visits.
Resources