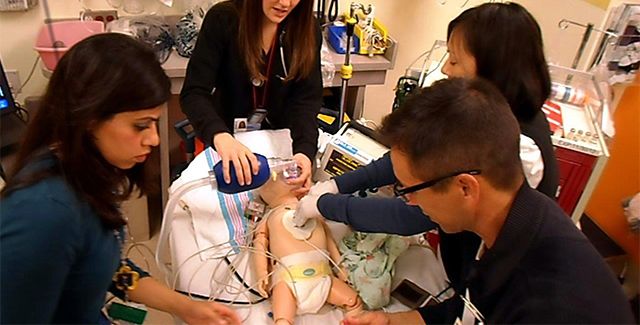 Simulation-Based Learning
In our simulation center, residents receive hands-on training to improve the skills needed for the care of neonatal and pediatric patients. Our simulation program also uses high-fidelity simulation to provide realistic experiences that enable participants to improve teamwork, clinical decision-making and individual skills in a safe learning environment. Debriefing occurs after each simulation in order to promote self-reflection and to apply learning points of the session to clinical practice.
Pediatric residents at Weill Cornell are exposed to simulation training beginning in intern orientation and continuing through all three years of their residency training.
The overall goal of our simulation program is to:
Improve patient safety and quality of care through teamwork and clinical decision-making using medical simulation.
Provide immersive, interactive learning experiences for our residents to develop proficiencies in patient care, medical knowledge, interpersonal communication skills, professionalism, practice-based learning and systems-based practice.
Engage our residents in interdisciplinary clinical scenarios that create experiential opportunities to develop leadership skills, teamwork behaviors and crisis resource management skills.
Provide safe, standardized, deliberate practice opportunities for our residents to improve their procedural skill proficiencies in the management of basic pediatric airway, shock and traumatic emergencies.
Provide focused training opportunities identified by residents to improve clinical skills and knowledge.
In our simulation center, residents receive hands-on training from faculty to develop skills needed for the care of neonatal and pediatric patients. Our simulation program uses high-fidelity mannequins which provide a realistic cardiopulmonary system that enables the participant to experience "real" clinical situations in a simulated setting.
Simulation Objectives
1) Participate in Six Core Multidisciplinary Pediatric Clinical Case Scenarios
Sepsis
Recognize the early signs and symptoms of SIRS/sepsis.
Understand and apply the principles of Early-Goal-Directed Therapy (EGDT) in the initial management of sepsis.
Status Asthmaticus
Recognize the signs and symptoms of status asthmaticus.
Direct the continuing management of a severe acute exacerbation and employ escalating therapeutic alternatives.
Recognize impending respiratory failure in an asthmatic patient.
Understand the indications and risks for intubation in an asthmatic patient.
Anaphylaxis
Recognize atypical presentations of anaphylaxis.
Direct the initial medical management of a partial upper airway anaphylaxis obstruction.
Direct the initial management of anaphylactic shock.
Status Epilepticus
Recognize status epilepticus and consider the differential diagnosis for seizures.
Direct the initial management of a seizure and employ escalating alternative therapies for a refractory seizure.
DKA
Recognize DKA and predict potential complications.
Direct the initial DKA fluid, electrolyte and insulin management.
Understand the risks, signs and symptoms of cerebral edema.
PALS
Recognize unstable bradycardia, SVT, ventricular tachycardia or a pulseless arrest rhythm.
Direct the management of a bradyarrhythmia or tachyarrhythmia using PALS algorithms.
2) Develop Effective Teamwork Behaviors and Skills
We strongly believe that effective teamwork and communication improves patient safety. Upon arrival, all members of our patient care teams receive immersive training in Team Strategies and Tools to Enhance Performance and Patient Safety (TeamSTEPPS®). Our approach includes immersive training in leadership, situational awareness, mutual support, communication and the use of standardized hands-off techniques (i.e. IPASS).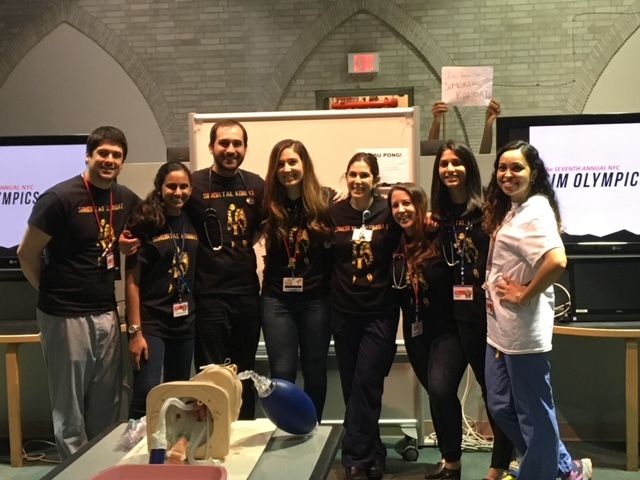 3) Develop Procedural Skill Indications, Contraindications and Proficiencies
PGY-1 Residents
newborn delivery room resuscitation, Infant lumbar puncture, peripheral IV insertion, extremity splinting, assisted bag-mask ventilation
PGY-2/3 Residents
assisted bag-mask ventilation, direct laryngoscopy, endotracheal intubation, umbilical line placement and intraosseous (IO) needle insertion