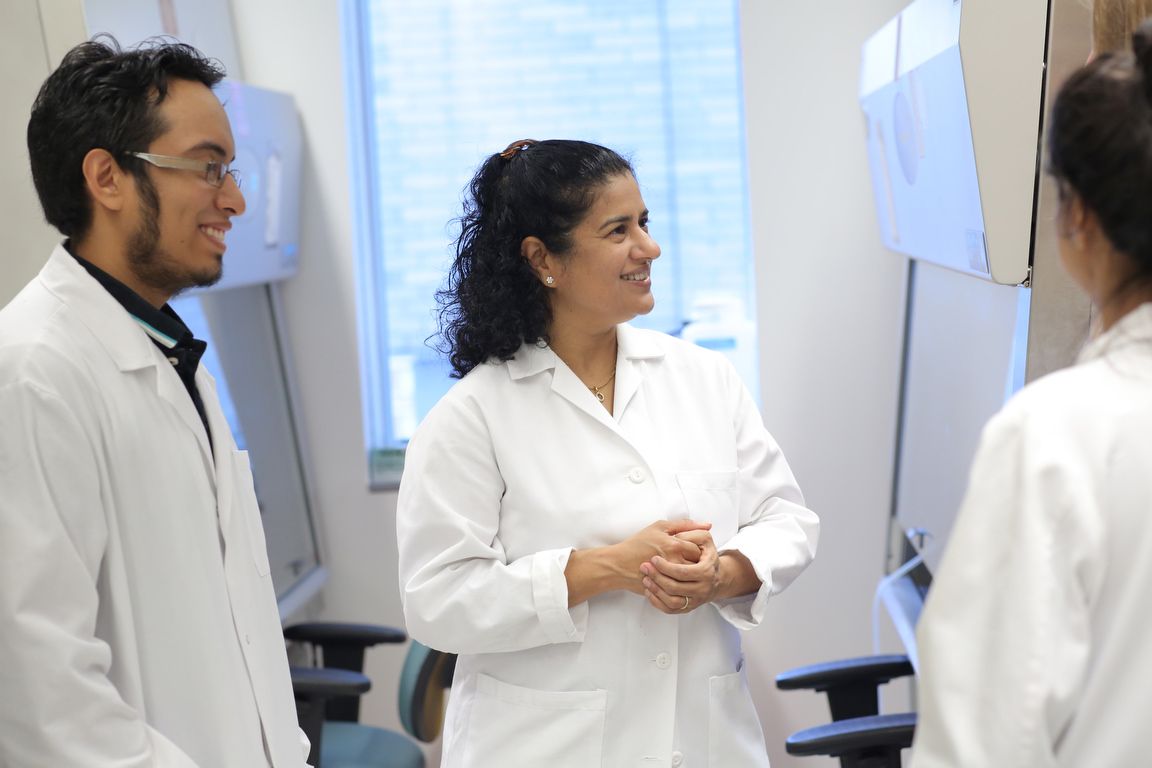 The Weill Cornell Autism Research Program (WCARP) is a multi-institutional collaborative effort committed to advancing our knowledge of Autism Spectrum Disorders (ASD). Our mission is to gain a better understanding of the neurobiological basis of ASD, and to support development of new diagnostic markers and treatments for patients with autism.
Research Highlights
A study published in Nature Digital Medicine conducted by investigators, Rebecca Jones, PhD, M Phil, assistant professor of psychiatry, and Catherine Lord, PhD, professor of psychiatry and Director, Center for the Developing Brain, demonstrates the reliable use of smartphones to collect behavioral data in children with autism.  Link to article
A study in Neuron led by postdoctoral fellow Joanna Giza, PhD and Francis Lee, PhD, professor of psychiatry and Chair of Psychiatry, identifies impact of a human variant in the BDNF gene, critically involved in brain development and plasticity, on aberrant synapse elimination and neuronal development.  Link to article
A study published in the Journal of Neuroscience identifies a new molecular pathway linked to the intellectual disability gene, cereblon (CRBN).  A mutation in CRBN causes intellectual disability in children.  The study involved generating a mouse model that recapitulated the learning and memory deficits seen in humans.  The work was led by graduate student, Charlotte Bavley and Anjali M. Rajadhyaksha, PhD, Director of the Weill Cornell Autism Research Program (WCARP). Link to article  
A study published in PLOS ONE and highlighted in Science Translational Medicine demonstrates that administration of the antibiotic, D-cycloserine can alleviate breathing abnormalities and increase survival rate in a mouse model of the neurodevelopmental disorder, Rett syndrome. The study was led by investigator, Andrew A. Pieper, MD., PhD in collaboration with Anjali M. Rajadhyaksha, PhD.  Link to article
A study in Molecular Psychiatry reports social behavioral impairments and anxiety in an animal model of one of the most important genes in psychiatric illness. Postdoctoral fellow, Zeeba Kabir, PhD and Anjali Rajadhyaksha, PhD discover a novel molecular and neural mechanism that they target using a small molecule to alleviate social deficits and anxiety. Link to article
A study in Nature Medicine led by Conor Liston, MD, PhD, assistant professor of psychiatry, uses functional MRI scans from patients suffering from depression to isolate distinct subtypes of depression that can better guide treatment. Link to article


Publications
2017-2018 Highlights
New machine-learning technologies for computer-aided diagnosis. Lynch CJ, Liston C. Nat Med Sept 3 2018.
Autism spectrum disorder symptoms from ages 2 to 19 years: Implications for diagnosing adolescents and young adults. Bal VH, Kim SH, Fok M, Lord C. Autism Res Aug 12, 2018.
Autism spectrum disorder. Lord C, Elsabbagh M, Baird G, Veenstra-Vanderweele J. Lancet Aug 11, 2018.
The BDNF Val66Met Prodomain Disassembles Dendritic Spines Altering Fear Extinction Circuitry and Behavior. Giza JI, Kim J, Meyer HC, Anastasia A, Dincheva I, Zheng CI, Lopez K, Bains H, Yang J, Bracken C, Liston C, Jing D, Hempstead BL, Lee FS. Neuron July 2018.
Progress in Understanding and Treating SCN2A-Mediated Disorders. Sanders SJ, Campbell AJ, Cottrell JR, Moller RS, Wagner FF, Auldridge AL, Bernier RA, Catterall WA, Chung WK, Empfield JR, George AL Jr, Hipp JF, Khwaja O, Kiskinis E, Lal D, Malhotra D, Millichap JJ, Otis TS, Petrou S, Pitt G, Schust LF, Taylor CM, Tjernagel J, Spiro JE, Bender KJ. Trends Neurosci. 2018 Jul.
Statistical Learning is Associated with Autism Symptoms and Verbal Abilities in Young Children with Autism. Jones RM, Tarpey T, Hamo A, Carberry C, Brouwer G, Lord C. J Autism Dev Disorder May 31 2018.
Longitudinal follow-up of academic achievement in children with autism from age 2 to 18. Kim SH, Bal VH, Lord C. J Child Psychol Psychiatry March 2018.
Rescue of Learning and Memory Deficits in the Human Nonsyndromic Intellectual Disability Cereblon Knock-Out Mouse Model by Targeting the AMP-Activated Protein Kinase-mTORC1 Translational Pathway. Bavley CC, Rice RC, Fischer DK, Fakira AK, Byrne M, Kosovsky M, Rizzo BK, Del Prete D, Alaedini A, Morón JA, Higgins JJ, D'Adamio L, Rajadhyaksha AM. J Neuroscience Mar 14, 2018.
Altered ultrasonic vocalization in neonatal SAPAP3-deficient mice. Tesdahl NS, King DK, McDaniel LN, Pieper AA. Neuroreport. 2017 Dec 6.
Neural correlates of preferred activities: development of an interest-specific go/nogo task. Bos DJ, Ajodan EL, Silverman MR, Dyke JP, Durston S, Power JD, Jones RM. Soc Cogn Affect Neurosci. Dec 1 2017.
BDNF at the synapse: why location matters. Song M, Martinowich K, Lee FS. Mol Psychiatry Oct 2017.
D-cycloserine improves synaptic transmission in an animal model of Rett syndrome. Na ES, De Jesús-Cortés H, Martinez-Rivera A, Kabir ZD, Wang J, Ramesh V, Onder Y, Rajadhyaksha AM, Monteggia LM, Pieper AA. PLoS One. 2017 Aug 16
Rescue of impaired sociability and anxiety-like behavior in adult cacna1c-deficient mice by pharmacologically targeting eIF2α. Kabir ZD, Che A, Fischer DK, Rice RC, Rizzo BK, Byrne M, Glass MJ, De Marco Garcia NV, Rajadhyaksha AM. Mol Psychiatry. 2017 Aug.
Cacna1c in the Prefrontal Cortex Regulates Depression-Related Behaviors via REDD1. Kabir ZD, Lee AS, Burgdorf CE, Fischer DK, Rajadhyaksha AM, Mok E, Rizzo B, Rice RC, Singh K, Ota KT, Gerhard DM, Schierberl KC, Glass MJ, Duman RS, Rajadhyaksha AM. Neuropsychopharmacology. 2017 Sep.
Placebo-like response in absence of treatment in children with Autism. Jones RM, Carberry C, Hamo A, Lord C. Autism Res Sept 2017.
Cortex-wide optical imaging and network analysis of antidepressant effects. Huang BS, Liston C. Brain. Aug 1 2017.
Neuronal PAS Domain Proteins 1 and 3 Are Master Regulators of Neuropsychiatric Risk Genes. Michaelson JJ, Shin MK, Koh JY, Brueggeman L, Zhang A, Katzman A, McDaniel L, Fang M, Pufall M, Pieper AA. Biol Psychiatry. 2017 Aug 1.
Moving Beyond Serendipity to Mechanism-Driven Psychiatric Therapeutics. Pieper AA, Baraban JM. Neurotherapeutics. 2017 Jul.
From Gene to Behavior: L-Type Calcium Channel Mechanisms Underlying Neuropsychiatric Symptoms. Kabir ZD, Martínez-Rivera A, Rajadhyaksha AM. Neurotherapeutics. 2017 Jul.
Evaluating the quality of peer interactions in children and adolescents with autism with the Penn Interactive Peer Play Scale (PIPPS). Jones RM, Pickles A, Lord C. Mol Autism June 17, 2017.
Increased Eye Contact During Conversation Compared to Play in Children With Autism. Jones RM, Southerland A, Hamo A, Carberry C, Bridges C, Nay S, Stubbs E, Komarow E, Washington C, Rehg JM, Lord C, Rozga A. J Autism Dev Disord Mar 2017.
Cav1.2 channels mediate persistent chronic stress-induced behavioral deficits that are associated with prefrontal cortex activation of the p25/Cdk5-glucocorticoid receptor pathway. Bavley CC, Fischer DK, Rizzo BK, Rajadhyaksha AM. Neurobiol Stress. 2017 Feb 24.
Resting-state connectivity biomarkers define neurophysiological subtypes of depression. Drysdale AT, Grosenick L, Downar J, Dunlop K, Mansouri F, Meng Y, Fetcho RN, Zebley B, Oathes DJ, Etkin A, Schatzberg AF, Sudheimer K, Keller J, Mayberg HS, Gunning FM, Alexopoulos GS, Fox MD, Pascual-Leone A, Voss HU, Casey BJ, Dubin MJ, Liston C. Nat Med Jan 2017.
Older Publication Highlights
The Neuropsychiatric Disease-Associated Gene cacna1c Mediates Survival of Young Hippocampal Neurons.  Lee, A.S., De Jesús-Cortés, H., Kabir, Z.D., Knobbe, W., Orr, M., Burgdorf, C., Huntington, P., McDaniel, L., Britt, J.K., Hoffmann, F., Brat, D.J., Rajadhyaksha, A.M., Pieper, A.A. eNeuro – March 31, 2016.
L-type Ca(2+) Channels in Mood, Cognition and Addiction: Integrating Human and Rodent Studies with a Focus on Behavioural Endophenotypes. Kabir, Z.D., Lee, A.S., Rajadhyaksha, A.M. Journal of Physiology – Feb. 23, 2016.
Wild-type microglia do not reverse pathology in mouse models of Rett syndrome. Wang J, Wegener JE, Huang TW.....Pieper AA. Nature. May 2015. https://www.ncbi.nlm.nih.gov/pubmed/25993969
Lack of Association Between Autism and Anti-GM1 Ganglioside Antibody. Moeller, S., Lau, N.M., Green, P.H., Hellberg, D., Higgins, J.J., Rajadhyaksha, A.M., Alaedini, A. Neurology – Oct. 29, 2013.
Markers of Celiac Disease and Gluten Sensitivity in Children with Autism. Lau, N.M., Green, P.H., Taylor, A.K., Hellberg, D., Ajamian, M., Tan, C.Z., Kosofsky, B.E., Higgins, J.J., Rajadhyaksha, A.M., Alaedini, A. PLoS One – June 18, 2013.
Serologic Markers of Lyme Disease in Children with Autism. Ajamian, M., Kosofsky, B.E., Wormser, G.P., Rajadhyaksha, A.M., Alaedini, A. JAMA – May 1, 2013.
Forebrain Elimination of cacna1c Mediates Anxiety-Like Behavior in Mice. Lee, A.S., Ra, S., Rajadhyaksha, A.M., Britt, J.K., De Jesus-Cortes, H., Gonzales, K.L., Lee, A., Moosmang, S., Hofmann, F., Pieper, A.A. Molecular Psychiatry – Nov. 2012.
Behavioral Characterization of Cereblon Forebrain-Specific Conditional Null Mice: a Model for Human Non-Syndromic Intellectual Disability. Rajadhyaksha, A.M., Ra, S., Kishinevsky, S., Lee, A.S., Romanienko, P., DuBoff, M., Yang, C., Zupan, B., Byrne, M., Daruwalla, Z.R., Mark, W., Kosofsky, B.E., Toth, M., Higgins, J.J. Behavioural Brain Research – Jan. 15, 2012.

Become a WCARP Sponsor
WCARP projects rely on federal and foundation grant funding, and from the support of benefactors like you. To become a WCARP sponsor, please contact our office: (212) 746-5095.
WCARP News
We Are Weill Cornell: Dr. Anjali Rajadhyaksha  (Video)
New Molecular Pathway Underlies Impaired Social Behavior and Anxiety in Neuropsychiatric Disorders (Weill Cornell Medicine, 2017)

 Pieper-Rajadhyaksha Press Release (Weill Cornell Medicine, 2016)