About The Fellowship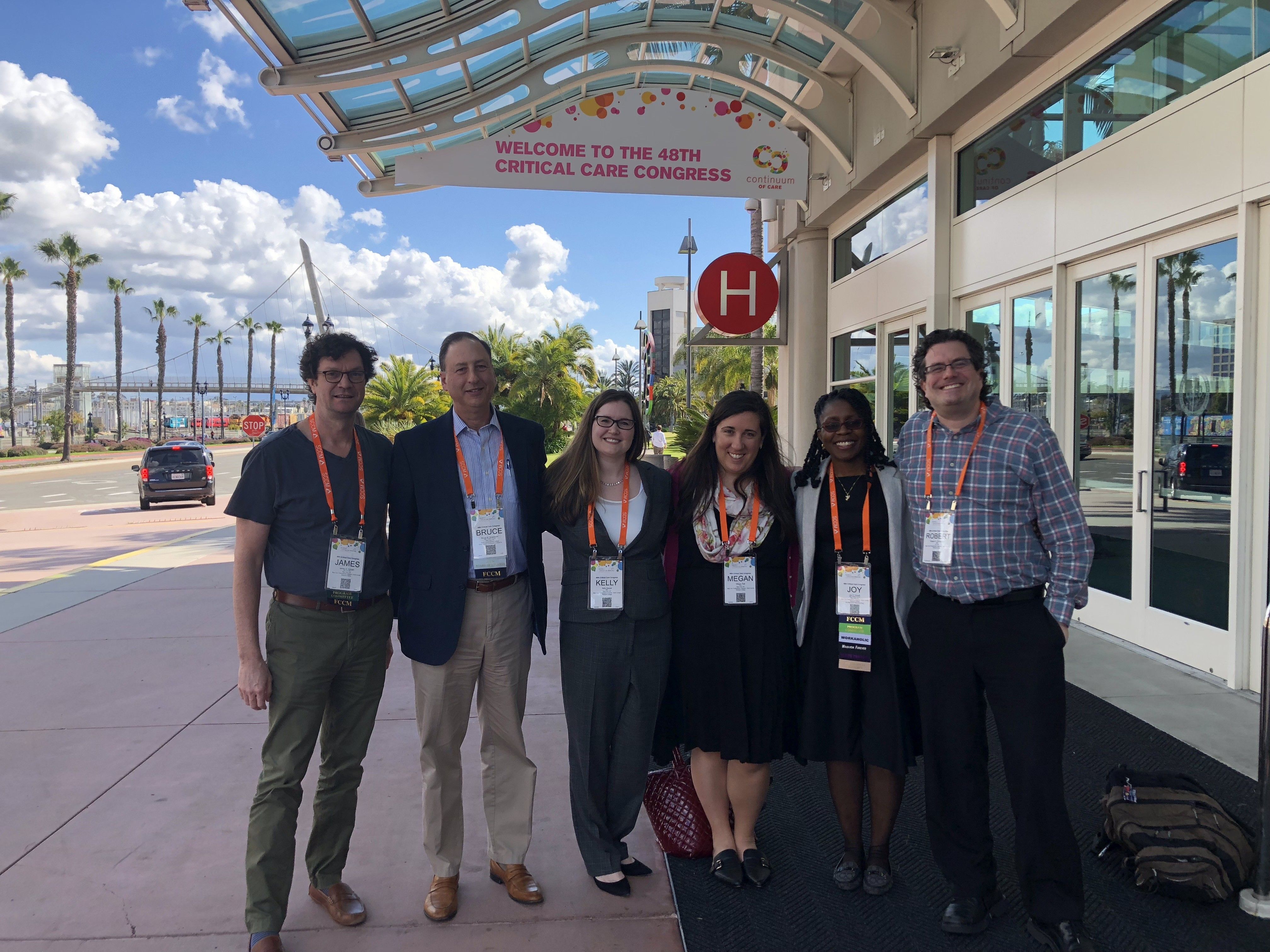 At the 2019 Critical Care Congress, San Diego.
The Pediatric Critical Care Medicine Fellowship at NewYork-Presbyterian Hospital/Weill Cornell Medical Center is an ACGME-accredited three-year program intended to prepare the pediatrician for subspecialty certification in critical care by the American Board of Pediatrics. The major goal of the program is the development of technical and cognitive competence in managing critically ill children, with additional emphasis on the acquisition of administrative and investigative skills.
About the Pediatric Intensive Care Unit (PICU)
Our fellowship program is centered in the 23-bed multidisciplinary Pediatric Intensive Care Unit (PICU) which includes a three-bed, state-of-the-art Pediatric Neurocritical Care Unit. The Division of Pediatric Critical Care Medicine is responsible for children from one day to 21 years of age with complex medical and surgical illness. The unit is "closed" and the critical care staff is responsible for all aspects of patient care in collaboration with referring and consulting services. Infants and children recover in the PICU following cardiothoracic, neurologic, airway and other complex surgeries.
Sources for patient referrals include the inpatient pediatric units of NewYork-Presbyterian Hospital (NYPH) and the NewYork-Presbyterian Phyllis and David Komansky Children's Hospital the emergency departments and pediatric service units of other NYPH Healthcare System institutions, as well as non-network hospitals in New York, New Jersey and Connecticut. NewYork-Presbyterian Hospital/Weill Cornell Medical Center is designated as a Level 1 trauma center for both adults and children. The unit is staffed by pediatric critical care nurses who work exclusively within the PICU and regularly participate in rounds, multidisciplinary conferences and other teaching activities.
The medical staff consists of eleven pediatric critical care attending physicians and six pediatric critical care fellows. Pediatric and anesthetic residents, as well as Physician Assistants (PAs) working under direct supervision of an attending physician and critical care fellow, support the critical care staff. A fellow and attending physician are staffed in the PICU 24 hours a day.
The NewYork-Presbyterian/Weill Cornell Medicine PICU has close and longstanding affiliations with Memorial Sloan Kettering Cancer Center (MSKCC) and the Hospital for Special Surgery (HSS), both of which transfer critically ill children to our unit. In addition to particular expertise in the delivery of oncologic and neurologic critical care, we also care for children with critical burn injuries in a collaborative fashion with medical and nursing staff of the William Randolph Hearst Burn Center at NewYork-Presbyterian Hospital/Weill Cornell Medical Center. NYPH maintains an active local and regional transport system staffed by paramedics and physicians.
Curriculum
The Division of Pediatric Critical Care Medicine's educational program includes:
Divisional conferences - a core lecture series, case management conferences, an evidence-based medicine journal club, and morbidity and continuing quality improvement (QCI) conferences.
Departmental conferences - a Fellows Lecture Series for all pediatric fellows, as well as professorial and pediatric grand rounds.
Interdisciplinary critical care medicine conferences - weekly multidisciplinary ICU conferences held in collaboration with our adult medical, cardiothoracic and neurocritical care colleagues.
Regularly scheduled, high fidelity, in situ simulation exercises as additional educational modalities that complement the didactic and case-based conferences
Clinical training is accomplished by having fellows fully engaged in the delivery of patient care. The majority of a fellow's clinical experience is in the Pediatric Intensive Care Unit, with clinical time occurring primarily in the first two years. 
First Year
First year fellows spend six-eight months on service in the PICU, with this time divided between red and blue teams. The red team is responsible for oncology and neurocritical care patients. The blue team is responsible for cardiothoracic surgery and burn patients, as well as consulting in the Burn Center. In addition, general medical and surgical patients are cared for by both of these teams. There is an active transport service. The first year is rounded out by two months of anesthesia, a one-month rotation in the MSKCC PICU, and one-two months of research preparation.
Second Year
In the second year, service time is reduced to four-five months, and approximately seven-eight months are allocated for research activities. One of these clinical months is a rotation in the Cardiac Intensive Care Unit at Morgan Stanley Children's Hospital.
Third Year
The third year is devoted almost exclusively to research, with limited (2 ½ months) of clinical service. Individual fellows develop specific research programs, and attending staff and a Scholarship Oversight Committee supervise scholarly activity. There is elective time available during all three years. The Department of Pediatrics and Weill Cornell Medical College maintain a working partnership with the Weill Bugando University College of Health, and opportunities are available to experience an elective rotation in Mwanza, Tanzania. 
Research
Fellows are offered opportunities to participate in clinical, basic science and translational research projects. Didactic programs in research design, statistics and ethics are available to complement the fellows' research activities. The Weill Cornell Medical College/Rockefeller University/Memorial Sloan Kettering tri-institutional community is an exceptionally rich environment in which to find research projects and mentors if one chooses to do work outside of the division. Ongoing clinical research programs in the areas of delirium, transfusion medicine, biomarkers and respiratory failure are available to fellows.
Members of the division are currently involved in the following research projects:
Divisional Research Programs (each with several ongoing studies)

Delirium
Transfusion Medicine
Educational Research (including Simulation)

Divisional Research Projects

pediatric airway pressure release ventilation
evaluation and assessment of the compliance, safety and efficacy of a pediatric vancomycin dosing guideline
dexmedetomidine for the prevention of delirium: a retrospective study
procalcitonin as a biomarker in bacteremic patients
pediatric trauma procedural skills training using a novel biosynthetic tissue: evaluation of Syndaver™ for placement of chest tubes and cricothyrotomy
MATIC: Massive Transfusion Epidemiology and Outcomes in Children
comparison of lung ultrasound to chest x-ray in pediatric patients following thoracoabdominal resection
epidemiology of venous thromboembolism in a single pediatric ICU
evaluation of the implementation of a rapid response team in a pediatric cancer hospital
incidence of cardiac arrhythmias in pediatric cancer patients receiving IV methadone

Multi-Institutional Projects

observation of multi-center quality improvement: improving safety and quality of tracheal intubation practice in pediatric ICUs
Pediatric Acute Respiratory Distress Syndrome: Incidence and Epidemiology (PARDIE)
Sepsis Prevalence, Outcomes and Therapy (SPROUT)
Survey of Intensive Care Management of Respiratory Failure in Children with Hematopoietic Stem Cell Transplants (SIRCH)
pandemic influenza and other emerging respiratory pathogens surveillance-registry
Benefits
Pediatric Critical Care Medicine Fellowship salary is determined according to PGY level, and increases annually. Fellows receive four weeks of vacation and time/funding to attend educational meetings when invited to present. Standard fringe benefits are provided. Subsidized housing is available in the immediate vicinity of the hospital.
How to Apply
Applicants must be board-eligible or board-certified in pediatrics, and graduates of a United States residency program. A curriculum vitae, three letters of recommendation from the applicant's training program, and a personal interview are required. The Pediatric Critical Care Medicine Program supports and participates in NRMP fellowship matching.
Contact Information
Joy D. Howell, M.D., Fellowship Director
Pediatric Critical Care Fellowship Program 525 E. 68th St., Box 302 New York, NY 10065
(646) 962-2238